Sell Us Your Used Copiers & Printers
Got some Used Copiers you need to get rid of?
We need to buy Brand-name Used Copiers to sell used copiers. Whether you have five or a thousand machines, don't hesitate to contact us.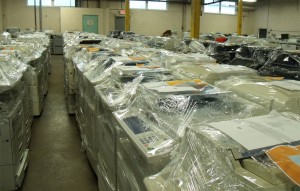 We purchase only the highest quality brand-name used copiers, copy machines and Wide-Format & Commercial Printers, such as Toshiba, Ricoh, Canon, Sharp, Konica Minolta, Kyocera, Panasonic, and Used Copy Machines, Discount Copiers, Off-Lease Copiers, Digital Copiers, Office Copiers, Color Copiers, Black and White Copiers, Multifunction Printers, Wide-Format and Commercial Printers, Large Office Copy Machines.
Some of the Brand-name Used Copiers WE BUY, Konica Copiers, Konica Color Photocopiers, Used Konica Copiers, HP Wide Format, Canon Copiers, Canon Color Photocopiers, Used Canon Copiers, Canon Wide Format, Ricoh Copiers, Ricoh Photocopiers, Used Ricoh Copiers, Kip Wide Format, Xerox Copiers, Xerox Photocopiers, Used Xerox Copiers, Oce Wide Format, Toshiba Copiers, Toshiba Photocopiers, Used Toshiba Copiers, Xerox Wide Format, Sharp Copiers, Sharp Photocopiers, Used Panasonic Copiers, Ricoh Wide Format, Kyocera Copiers, Kyocera Photocopiers, Used Kyocera Copiers, Savin Wide Format, copier companies.
---
Some Brand-name Used Copiers, MFP's WE BUY
Used Canon Copiers
Used Ricoh Copiers
Used Konica Minolta Copiers
Used Xerox Copiers
Used Kyocera Mita Copiers
Used Toshiba Copiers
Used Sharp Copiers
Used Panasonic Copiers
Used Gestetner Copiers
Used Lanier Copiers
Used Savin Copiers
Some Wide Format Printers WE BUY
Used Canon Wide Format
Used Epson Wide Format
Used HP Wide Format
Used Mimaki Wide Format
Used Roland Wide Format
Used Gestetner Wide Format
Used Kip Wide Format
Used Konica Wide Format
Used Kyocera Mita Wide Format
Used Lanier Wide Format
Used Oce Wide Format
Used Ricoh Wide Format
Used Savin Wide Format
Used Seiko Wide Format
Used Xerox Wide Format
Call Town Business Center for all your used printer needs today. We are glad to help!