Sell Us Your Wide Format Printers
We purchase brand-name Printers for CASH, such as Toshiba, Ricoh, Canon, Sharp, Konica Minolta, Kyocera, Panasonic, and Used Copy Machines, Discount Copiers, Off-Lease Copiers, Digital Copiers, Office Copiers, Color Copiers, Black and White Copiers, Multifunction Printers, Commercial Printers, Large Office Copy Machines.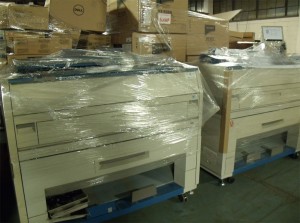 Whether you're an office manager, a graphic artist, a photo enthusiast, or a casual photographer wanting to get the most out of your megapixels, there's a wide-format printer out there that will meet your printing needs.
Wide format (aka large format) printers (contrast to vector-rendering "plotters") are generally accepted to be any computer-controlled printing machines (aka "printers") that support a maximum print roll width of between 18″ and 100″. Printers with capacities over 100″ wide are considered Super Wide or Grand format. Wide format printers are used to print banners, posters, trade show graphics, wallpaper, murals, backlit film (aka duratrans), vehicle image wraps, electronic circuit schematics, architectural drawings, construction plans, backdrops for theatrical and media sets, and any other large format artwork or signage.
Printers usually employ some variant of inkjet technology to produce the printed image; and are more economical than other print methods such as screen printing for most short-run (low quantity) print projects, depending on print size, run length (quantity of prints per single original), and the type of substrate or print medium. Printers are usually designed for printing onto a roll of print media that feeds incrementally during the print process, rather than onto individual sheets.
We are one of the nation's largest buyers of used copiers and commercial printers. We buy used copiers like, Xerox, Canon, Sharp, Ricoh, and Toshiba copiers, Printer Wide Format and Printers. We offer top dollar for all brands of used copiers. Sell your used copier today! Unlike the competition, when Town Business Center buys your copier(s) we will then pick them up for FREE from any location in the United States and Lower Canada. We will also take care of all the shipping details, including packing, scheduling, shipping method, and logistics. All of our clients want their used copiers picked up as soon as possible and we will typically pickup your copier(s) the same week as we agreed to purchase them. Request a Quote! Get Top Dollar for Your Used Copier!
---
Wide Format Printers