Town Business Center Used Copier Dealer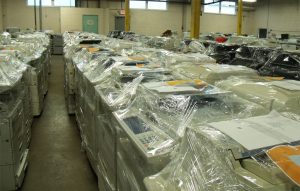 If you're a copier dealer looking for some used copiers to complement your copier offerings, please check out our used copier inventory at Town Business Center.
We get used photocopy machines delivered each day, so it pays to keep your eyes open and check TBCCopiers.com inventory daily. Another option is to have one of our sales team check our new inventory arrivals daily for you. However, the most effective option is to have us email you our inventory daily, right to your inbox.
Because of our fast turnaround times and our great sales team Town Business Center has repeat business with our current copier dealers, dealerships and exporters.
If you have some used copiers at your facility that you desire to sell for cash, then send us your list. Even though we purchase roughly 1,500 used copiers every month most of our used copiers come from our partners. We buy used copiers too so whether you're interested in buying 1, 5, or a container full of copiers or printers the staff at Town Business Center looks forward to assisting you every step of the way.
Contact us at your earliest convenience and we will be happy to help you with your used copier needs, 570.602.1640.
We are experienced in building 2 floored containers for shipping so your copiers will arrive safely.